Pancréas divisum
Le pancréas divisum décrit une anomalie congénitale résultant d'une séparation persistante entre les parties dorsales et ventrales du pancréas. Le canal ventral et le cholédoque se drainent via la grande papille (ampoule de Vater). Le canal pancréatique principal se draine via par la papille mineure. Une incidence augmentée de pancréatites aigües a été décrit chez ces patients. Une hyperpression provoquée par la papille mineure est invoquée pour la pathogénie. La cholangio IRM est une technique non invasive efficace dans la détection de ce type d'anomalie.
Anatomie classique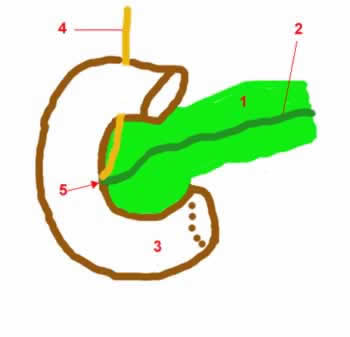 1,
pancréas
2,
canal de wirsung
3,
duodénum
4,
cholédoque
5,
ampoule de Vater
Schéma d'un pancréas divisum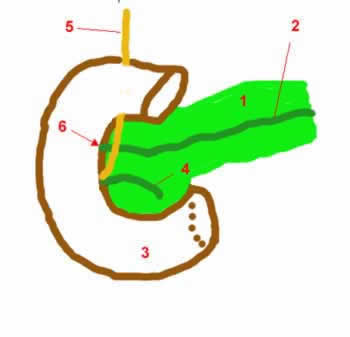 1,
pancréas
2,
canal dorsal
3,
duodénum
4,
canal ventral
5,
cholédoque
6,
papille mineure
Bibliographie:
• Yu J, Turner MA, Fulcher AS, Halvorsen RA. Congenital anomalies and normal variants of the pancreaticobiliary tract and the pancreas in adults: part 2, Pancreatic duct and pancreas. AJR Am J Roentgenol. 2006 Dec;187(6):1544-53.
• Mortelé KJ, Rocha TC, Streeter JL, Taylor AJ. Multimodality imaging of pancreatic and biliary congenital anomalies. Radiographics. 2006 May-Jun;26(3):715-31.
• Soto JA, Lucey BC, Stuhlfaut JW. Pancreas divisum: depiction with multi-detector row CT. Radiology. 2005 May;235(2):503-8.
• Miller FH, Keppke AL, Wadhwa A, Ly JN, Dalal K, Kamler VA. MRI of pancreatitis and its complications: part 2, chronic pancreatitis. AJR Am J Roentgenol. 2004 Dec;183(6):1645-52.
• Leyendecker JR, Elsayes KM, Gratz BI, Brown JJ. MR cholangiopancreatography: spectrum of pancreatic duct abnormalities. AJR Am J Roentgenol. 2002 Dec;179(6):1465-71.
• Manfredi R, Costamagna G, Brizi MG, Spina S, Maresca G, Vecchioli A, Mutignani M, Marano P. Pancreas divisum and "santorinicele": diagnosis with dynamic MR cholangiopancreatography with secretin stimulation. Radiology. 2000 Nov;217(2):403-8.
• Matos C, Cappeliez O, Winant C, Coppens E, Devière J, Metens T. MR imaging of the pancreas: a pictorial tour. Radiographics. 2002 Jan-Feb;22(1):e2.
• Vitellas KM, Keogan MT, Spritzer CE, Nelson RC. MR cholangiopancreatography of bile and pancreatic duct abnormalities with emphasis on the single-shot fast spin-echo technique. Radiographics. 2000 Jul-Aug;20(4):939-57; quiz 1107-8, 1112. Erratum in: Radiographics 2000 Sep-Oct;20(5):1494.
• Morgan DE, Logan K, Baron TH, Koehler RE, Smith JK. Pancreas divisum: implications for diagnostic and therapeutic pancreatography. AJR Am J Roentgenol. 1999 Jul;173(1):193-8.
• Rizzo RJ, Szucs RA, Turner MA. Congenital abnormalities of the pancreas and biliary tree in adults. Radiographics. 1995 Jan;15(1):49-68; quiz 147-8.
• Zeman RK, McVay LV, Silverman PM, Cattau EL, Benjamin SB, Fleischer DF, Garra BS, Jaffe MH. Pancreas divisum: thin-section CT. Radiology. 1988 Nov;169(2):395-8.